Elleebana One Shot vs Elleeplex Profusion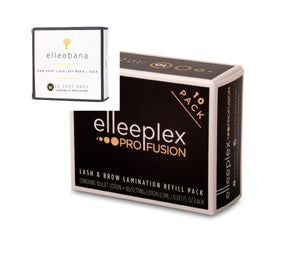 Let's dig deep into the similarities and differences of Elleebana's One Shot Lash Lift System and Elleebana's new Elleeplex Profusion Lash Lamination System.
The four biggest differences are:
1.The active ingredient:
Elleebana One Shot Lash Lift System uses Thioglycolate to break down the disulphide bonds in the lash and permanently redirect the lash into a lifted style. This chemical softens, swells, and raises the cuticles present on the outer layers of the lash. The Polypeptide chains are now able to be easily reshaped.
The Elleeplex Profusion Lash Lamination System uses Cysteamine Hydrochloride (CHC). This ingredient breaks down the disulphide bonds at a lower PH than the Thioglycolate requires and forms a part of a group of aminothiols that is stable when used in Elleebana's formulation. This particular formulation creates a chemical reaction where while the breakdown is happening, each bond is replaced with a new bond that imparts structural integrity back into the lashes during the process. This makes the specific formulation that Elleebana and Elleeplex have created more user friendly and reduces the risk of over processing.
2. Timing:
Elleebana One Shot Lash Lift System has the fastest processing times in the world due to its tried-and-true formulation. Typical processing durations for medium lashes are 6 minutes for the lifting solution and 5 minutes for the setting solution. When the Elleeplex ReGen-Next Gen is used as a third step, 3 minutes would be used. The total treatment duration is equal to 14 minutes. As with any procedure, care must be taken to thoroughly inspect a client's lashes to determine what timing should be used so that over processing does not occur.
Elleeplex Profusion Lash Lamination timings are slightly longer for the lifting and setting solutions at 8/6 but the Elleeplex ReGen-Next Gen can actually be mixed with the setting solution which equates to an equal overall treatment time of 14 minutes. We have found the Elleeplex Profusion to be particularly helpful with new technicians and for finer lashes.
3. Dual System:
Where Elleebana's One Shot Lash Lift System contains Thioglycolate, care should be taken not to apply the solutions to the skin.
Elleebana's Elleeplex Profusion is formulated as a dual system for lashes and brows so it can be used for Brow Lamination as well as Lash Lamination. It is more gentle and less likely to over process lashes or brows.
4. Storage and use temperatures:
The Elleebana One Shot System should be stored between 39 and 75 degrees in a refrigerator and can be used without warming it up.
The Elleeplex Profusion System should also be stored the same but is required to be brought up to room temperature prior to use as it needs heat for optimal processing.
Now for the similarities:
Both Elleebana's One Shot System and the Elleeplex Profusion create amazing lash lifts.
Both systems never have been nor ever will be tested on animals.
Both systems are Gluten Free (clients should always list any allergies on the indemnity from prior to any treatment)
Both systems are Paraben and Formaldehyde Free.
Both systems are meant to be used with Elleebana's silicone rods which means there is no latex present for clients who are sensitive to latex.
Both systems utilize individual sachets which means the product is always fresh, the sachet can be sealed, and if stored properly can be used for a second client within 24 hours which equates to better value and profits for your salon(s).