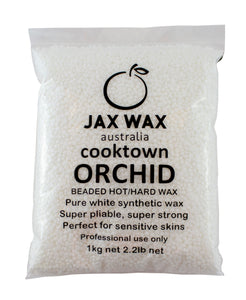 Rose Hard Wax Fragrance
Faster setting wax designed with super glide for ultra- fine application whilst remaining pliable.
Formulated without pine resin this wax is perfect for clients who suffer sensitivity after waxing.
Highly suited for Brazilian waxing.
2.2 lbs.
The stunning Cooktown Orchid is Queensland's floral emblem. It is native to Queensland's northern tropics and is named after the northern Queensland town of Cooktown. The Cooktown Orchid grows in a wide variety of habitats around the Cape York Peninsula ranging from coastal scrub on trees and rocks, to mangroves, riverine vegetation, rainforest, vine thickets, gullies in open forest and even swamps.
Jax Wax Australia Cooktown Orchid hard wax beads are formulated for mainly humid tropic conditions, as it is a faster setting wax designed with the ability to be applied thinly while remaining pliable. The Australian indigenous people used the Cooktown Orchid for medical purposes, and outer foliage has heated and used as a decorative binding on their tools, waist-belts and other ornaments. Jax Wax Australia Cooktown Orchid hard wax beads are a versatile synthetic wax formulated without pine resin and is perfect for people who suffer sensitivity, Brazilian and underarm waxing.
Ingredients: Hydrogenated Polycyclopentadiene, Paraffin, Microcrystalline Wax, Cetearyl Alcohol, Ricinus Communis Seed Oil, Parfum, Citronellol*, Geraniol*, Benzyl Benzoate*, CI 77891