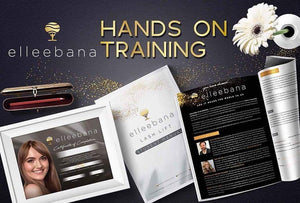 ***AFTERPAY*** not applicable for this product
Purchase training through Lash and Beauty Store and receive 10% off all Elleebana products for life. 
Hands on training $600 fee includes the new Elleeplex ReGen - Next Gen along with the following:
Elleebana Lash Lift Starter Kit with 15 Lifting Solutions and 15 Setting solutions for up to 30 treatments. You also receive an Elleeplex Aftercare, Elleebana Isolator Tool, a 5 pack of Elleebana Eye Pads, and a 100 pack of Micro Swabs. Everything you need to get started creating gorgeous lifted lashes!
-Each student works on 2 models in class
-Certification (Once 5 before and after photos are submitted and approved)
-Continued Support-Name listed on our Find A Stylist Page
-Access to our private FB Group
-Free marketing materials-Watermark Certified Logos
Are you a licensed professional ready to take your business to the next level?
Elleebana's One Shot Lash Lift treatment is the hottest trend in the eyelash industry that allows you to offer your customers luscious lifting natural lashes that will last for weeks, all in the blink of an eye.
This course arms you with the detailed concept of lash lifting as well as the hidden tips to mastering your technique to achieve the perfect lift each and every time.  
You are guided through the cost and income potential of Lash Lifting to build your marketability.
Topics we cover:  
Science of Lash Lifting including topics on active ingredients and the ingredient trends, functions of formulas and the chemistry elements
Understanding lash lift adhesives
Eye anatomy, hair and lash texture theory
Profitability and income potential of lash lift services
Client/technician well-being and self-care
Health, safety and sanitation – for your clients and for yourself
Detailed step-by-step application procedure and how to master your technique
Advanced processing times explained
Product information, usage and storage guidelines
Consultation, contraindications, patch testing, reactions and the importance of indemnity and legal requirements such as insurance
Eye shapes and face considerations and key tips and tricks to craft the perfect lift for your client
Elleebana facial acupressure for a new approach to client experience
Advanced procedure on lash lift reversal
Lower lash relaxation
Advanced application techniques using Elleeplex ReGen and Extreme Styling Shields
After-care advice and the benefits of retail products explained
In-depth marketing strategies for business growth and success
How to capture award winning images for social media promotion
Frequently asked questions with detailed explanations
Case study submissions outlined
 Course price:
$600
Course inclusions:
An Elleebana Lash Lift Starter kit valued at $175 with add on pack valued at $59 includes a minimum of 15 applications. You also receive , Elleeplex Aftercare, Elleebana Isolator Tool, 5 pack of Elleebana Eye Pads, 100 pack of Micro swabs, an Elleebana ReGen, copyrighted manual, criteria checklist, access to promotional flyers digital file, multimedia promotional package and digital posters for printing. Certificate is issued upon submission of a minimum of 5 before and after images that are approved.
Please Note
All courses are non-refundable
We reserve the right to withhold issuing of a certificate until competency has been achieved through successful assessment.
**Price is subject to change
 #classes