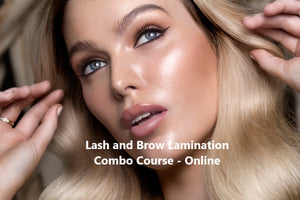 **DO NOT use AFTERPAY to purchase**
 ****This course is for US residents only****
You must hold a cosmetologist or esthetician license to take this course.
Lash Lamination and Brow Lamination are fast becoming the hottest trends in the beauty industry and Elleeplex Profusion is a highly sought after product line due to the quality and benefits of the product.  The brow lamination service gives the appearance of fuller eyebrows that are more easily shaped or corrected into brows that clients LOVE. The lash lamination service provides beautifully lifted/curled eyelashes that last for weeks.
This course arms you with the detailed concept of lash lamination and brow lamination as well as the hidden tips to mastering your technique to achieve perfect results each and every time.
The detailed explanation of the science of lash lamination and brow lamination is a key component to understanding the treatments and how to achieve optimal results.  You are guided through the cost and income potential of lash lamination and brow lamination to build your marketability.
Our Elleebana Educator will then assist you through your online course.
The online component continues with quiz questions for knowledge retention and then final submission of before and after images for assessment to further ensure you have been able to retain and apply your newfound skills that your Elleebana Master Educator has delivered to you one-on-one, through our online program.
The course includes the following products:
Elleeplex Profusion Lash and Brow Lamination Starter Kit  – all items used to perform both services with over 15 applications per kit.
Elleeplex Lash Lamination Manual
Elleeplex Brow Lamination Manual
Elleeplex Aftercare
Doe Foot Applicators
Precision Brow Light Ash Brown Pencil
Precision Brow Deep Warm Brown Pencil
Precision Brow Dark Ash Brown Pencil
Mascara Wands
Elleebana Wonder-wands
Certificate upon completion of successful submission of case studies