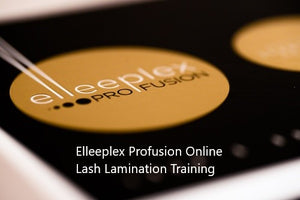 **DO NOT use AFTERPAY to purchase**
 ****This course is for US residents only****
You must hold a cosmetologist or esthetician license to take this course.
Elleeplex Profusion Lash Lamination Course Online
The online Lash Lamination Course where the trainer delivers a mandatory face to face delivery in conjunction with self-paced learning through the Elleebana Excellence Academy Educational Platform! With our program, you always have extra added face-to-face support if required throughout your online learning journey.
We don't just send you videos and leave you to your own devices, our team know that the best online learning experience comes from replicating the in person connection just like our hands on classes. Our curriculum allows a more productive and complete online learning experience.
Course Overview:
Elleeplex Profusion Lash Lamination treatment by Elleebana is undeniably one of the industries most talked about releases into the lash world for 2020 . The Lash Lamination service using the Elleeplex Profusion system is providing the same incredible results as an Elleebana Lash Lift but is a Thioglycolic Acid Free, Sodium Bromate Free, Vegan, Cruelty free system that is gentle while remaining incredibly effective. The incorporation of the ReGEN Next Gen Product line into the processing steps in the service has been a revolutionary phase created by Cosmetic Chemist and Director of Elleebana Global, Otto Mitter. This course arms you with the detailed concept of lash lamination as well as the hidden tips to mastering your technique to achieve perfect results each and every time and comes to you after two years of clinical trials and development.

 

Our theory session commences with product knowledge and understanding of the delicate area that you are working with, contraindications and how to consult for this treatment.

The detailed explanation of the science of lash lamination is a key component to understanding the treatment and how to achieve optimal results. You are guided through the cost and income potential of lash lamination to build your marketability.

Our hand-selected Elleebana Master Trainer will then assist you through your online course.

The online component continues with quiz questions for knowledge retention and then final submission of before and after images for assessment to further ensure you have been able to retain and apply your newfound skills that your Elleebana Master Trainer has delivered to you one-on-one, through our online program.

Topics we cover:

Science of lash lamination, active ingredients and the ingredient trends we are seeing
Adhesives and myth busting tips on adhesives as well as exposure to the variety of adhesives on the market
Storage guidance and tips
Eye and eyelash anatomy and structure
Business, room set up and cleanliness
Lamination and hair removal
Lamination and colouring hair
Health, safety and sanitation – for your clients and for yourself
Cleaning your tools and equipment
Pre-procedure preparations and contra-indications
Product information and usage for the products
Consultation, reactions and the importance of indemnity and legal requirements such as insurance
Patch testing for lamination and tinting with Elleeplex Profusion lash and brow tinting range
Eye shapes and face considerations and key tips to craft the perfect lift for your client
Cost of treatment and income potential
Lash Lamination process and step-by-step procedure
ReGEN hydration phase incorporation into your Lash Lamination services
Brow Lamination process and step-by-step procedure
ReGEN hydration phase incorporation into your Brow Lamination services
Lash tinting procedure with the Elleeplex Profusion System
Frequently asked questions / important notes
How to take good before/after images
Case study submissions explained

Bonus Units:

How to win lash lift/lamination competitions – Otto Mitter gives you an insight into the criteria that judges are looking for in global competitions
Marketing Mastery – how to elevate your business to the next level

Course Inclusions:

Elleeplex Pro Starter Kit (15 Lift & 15 setting sachets, combo pack of silicone rods, lash lifting adhesives, Elleebana make up remover 30ml, application brush and an isolator tool and Elleeplex ReGen Next Gen)
Elleeplex Lash Lamination Manual
Elleeplex Eye Pads
Micro brushes
Certificate upon successful completion of case studies

How will the Online program be structured?:

Enrollment

Upon confirmation of payment and receipt of the funds, we begin the process of activating you as a student of the Elleebana Excellence Academy to support your Elleeplex Profusion Lash Lamination education journey! Your training package containing your kit, manual and additional items as per the course inclusions above will be shipping out momentarily. 

Commencement of Your Course 

In an effort to deliver world class online education of the highest standards you will participate in two separate Skype/Zoom sessions. For the first session, we ask that you plan on allowing 30 minutes – 1 hour time frame. We will be introducing you to your dashboard and the extensive learning modules, so we can ensure that you have an excellent understanding of the requirements to complete the program. In the modules you will find a mixture of theory content and in-depth video tutorials in a easy to use online learning environment. You will be required to complete an online exam throughout the course and on completion you will be require to submit before and after images (within 3 months) as part of your assessment process. During the COVID-19 crisis, we are extending the assessment period. Please speak to your trainer directly for further information.

Completion of the Course

Once you have successfully completed the assessment phase of your course, we will issue your certificate of completion! HOORAY!!

Model Required:

As an element of your certification, you will be required to perform lash laminations on models, capture the work you are performing with before, during and after images and submit them for assessment.  To ensure your models are suitable to have a lash lamination please review the contraindications for lash lamination.

 

Important notes:
Elleebana offers you this course with over 25 years' experience with lash and brow services.  The Elleeplex Profusion Lash Lamination treatment is recognizably an advanced and well received product for a unique but desired service.

 

If you have previously trained with another brand you might find some similarities between the treatment, however, there can be major differences between brands and training with our brand will be highly recommended to maximize your ability of achieving optimal results.

Please Note:

1. Online courses are non-refundable

2. We reserve the right to withhold issuing of a certificate until competency has been achieved through successful assessment.

3. Online courses are only available in English and subtitles are unavailable.

**Price is subject to change

You can also view further Elleebana Training opportunities on our website.


Course price:
$600