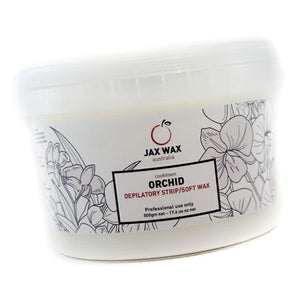 At Lash and Beauty Store, we understand the importance of having high-quality, dependable products to help ensure the satisfaction of your clients. That's why we are proud to introduce the Cooktown Orchid soft wax—a luxurious wax for sensitive skin and delicate areas that offers a smooth, comfortable waxing experience.
A Gentle Wax for Sensitive Skin, With a Lovely Rose Fragrance
The Cooktown Orchid soft wax is made with synthetic resins and titanium dioxide, providing a gentle touch for even the most sensitive skin types. Its lovely rose fragrance adds a touch of elegance and style to your waxing services, making your clients feel pampered and relaxed during their spa or salon visits.
Ultra-Fast, Ultra-Fine, and Zero Residue
Forget about thick, sticky wax that's hard to work with. The Cooktown Orchid soft wax spreads ultra-fast and ultra-fine, ensuring a quick and efficient waxing process. And the best part? It leaves zero residue behind, so your clients walk away with silky smooth skin—no post-wax cleanup required.
Ideal for Brazilian Strip Waxing and Sensitive Areas
We highly recommend this wax for Brazilian strip waxing and sensitive areas such as the face, underarms, and bikini line. Its gentle formula allows for a comfortable and pain-free experience, even in the most delicate regions, making it the perfect addition to your professional waxing toolkit.
17.6oz of Premium Wax for Your Spa or Salon
Our soft wax comes in a 17.6-oz container, providing an ample amount of product to use for multiple waxing sessions. Enhance your service offerings with this superior wax formulated for sensitive skin and watch your clients return time and time again for a comfortable, hassle-free waxing experience.
Experience the Cooktown Orchid Soft Wax Difference Today
At Lash and Beauty Store, we commit ourselves to offering only the best products for your spa or salon needs. With our soft wax, you can provide an exceptional waxing experience for clients with sensitive skin, making your business stand out from the competition. Don't wait—upgrade your waxing services with the Cooktown Orchid soft wax and experience the difference for yourself.