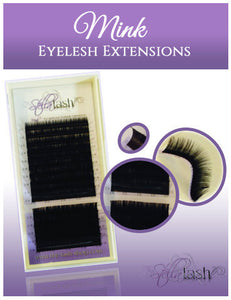 Stella .03 Mixed Tray with Premium PBT for an ultra dark black and ultra soft
7-14 mm in every tray
Available in C Curl, CC Curl and D Curl
Each strip is labeled with the curl type & length of lash through out strip
1 - 7mm, 1 - 8mm, 2 - 9mm, 4- 10mm, 3 - 11mm, 3 - 12mm, 1 - 13mm, 1 - 14mm
Our Individual "Mink" Eyelashes are made from Polybutylene Terephthalate (PBT)
materials which are light and flexible with a fine sheen.
These .03 and are a richer black
Ultra Soft with deep taper
They have micro pores in the surface to help lash glues bond well. 
Every batch of lashes are checked for accurate length and curl.
This mink lash extension is designed for speed and efficiency.
The lash is really soft, flexible and is very  light weight and looks as natural as real hair